There are two teeth whitening treatments we offer in our dental office. Zoom whitening and bleach trays.
Zoom Whitening
Zoom whitening is a simple, non-invasive procedure that usually takes between 60 and 90 minutes to complete. This process combines a special lamp (referred to as a zoom light or zoom laser), with a hydrogen peroxide-based whitening gel, bleaching each tooth and producing a brighter smile by the end of the treatment.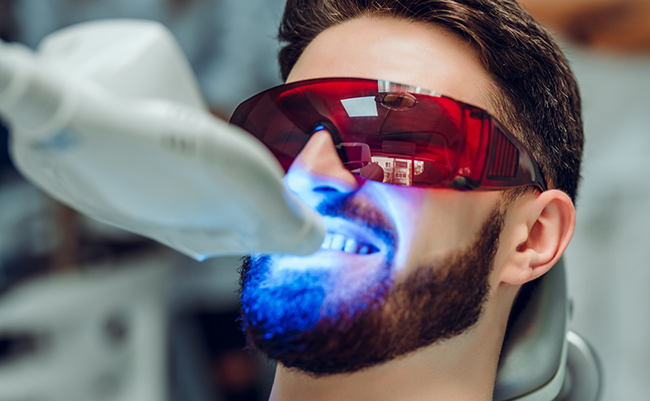 A regular teeth cleaning is recommended prior to the actual Zoom teeth whitening session.
We begin this procedure with a short preparation to cover the lips and gums, leaving the teeth exposed. We then apply the Zoom hydrogen peroxide whitening gel, working together with the Zoom light to penetrate the teeth and break up the stains and discoloration. The gel remains in place for 15 minutes while the light is activated. You can relax during this time, watch TV or listen to music.
The gel is applied for three 15-minute sessions of light activation, for a total treatment time of 45 minutes. Individuals with a strong gag reflex or anxiety may have difficulty undergoing the entire procedure. A sensitivity-reducing fluoride paste-gel is applied to the teeth immediately after this whitening procedure is completed.
Some people might experience sensitivity and discomfort during treatment, as the Zoom light produces minimal heat. In rare cases, some people might experience minor tingling immediately after the procedure, but this will dissipate.
As with other whitening products, Zoom is not recommended for children under 13 years of age, or women who are pregnant or lactating. It is also important to remember that whitening treatment may be more effective for some people as it is for others. We can determine if teeth whitening is right for you after performing a thorough oral examination.
Bleach Trays
Bleaching trays are plastic retainers made using models of your teeth that hold whitening (bleach) gel.