Veneers are thin shells of porcelain or composite that we can attach to the front of your teeth. If your teeth are worn down, chipped, cracked, broken, discolored, stained, or you have gaps between them, dental veneers might be a good option for you. With this treatment, we can conceal minor blemishes so you can enjoy a brighter, younger-looking smile!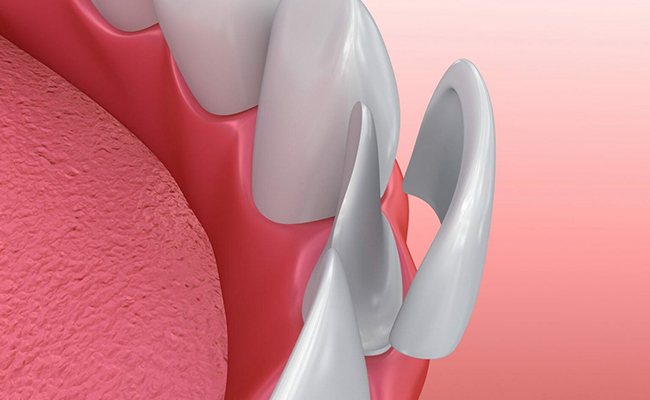 What are the advantages of dental veneers?
Some of the advantages of having dental veneers is that they look natural, as well as being stain resistant and making you teeth appear whiter. They can also strengthen your teeth and make them look better.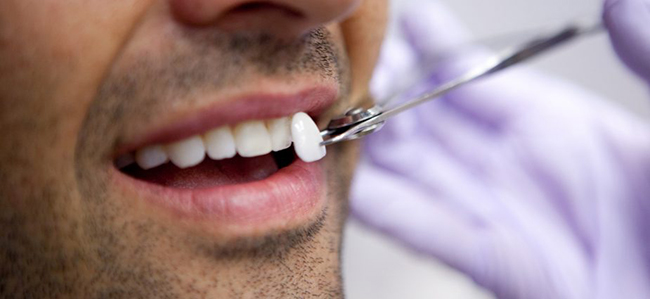 How are dental veneers implemented?
The first step involves diagnosing and treatment planning, which will include a conversation about your goals and what you're trying to achieve.
Next, we will examine your teeth to make sure that veneers are the right choice for you, determine which treatment option better fits your needs, and discuss the procedure with you.

To prepare your tooth (or teeth) for dental veneers. We will remove approximately half a millimeter of enamel from the surface of your tooth (approximately the thickness of the veneer). In most cases, we will give you a local anesthetic to ease any discomfort. A model or impression of your tooth will be made, and sent to a laboratory to construct the veneer. Temporary dental veneers can be placed while the veneers are being created.

The final step is bonding the veneer, but before the veneer can be permanently attached to your tooth, we need to make sure that the tooth fits appropriately and the color is correct. We will also clean, polish, and etch the tooth, which will help create a stronger bond. After the veneer is properly in place, we will apply a special beam of light that will activate the chemicals in the cement to harden and cure faster. We will then examine to make sure that your new veneers are flawless and your bite is optimal.
A follow up visit is usually required so that we can do a final check on your veneers. Make your appointment today!